28 September, 2011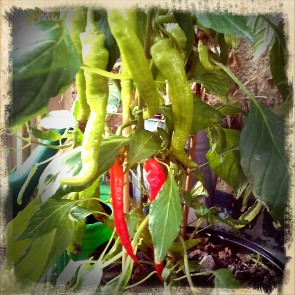 We knew we started to late, still we gave it a try and a few chilies are getting red and ready, but vast majority could have used a couple of weeks more with lots of sunshine. Beautiful fruits and really strong and tasty. Has to be done again, but the seeds should be planted in late January or February instead of April...
22 September, 2011
The balcony has been green and nice most of the summer and it's nice that the different plants produce eatable things at different times. I miss the wild strawberries, but instead we have lots of tomatoes. I've eaten so many of them that I don't really want more and they keep coming!
The picture shows a kind of tomatoes called "black cherry" and they are more black then red, very creative naming - and they're really nice and tasty. Another kind we grow is "hundreds and thousands" and that name also tells a story..
18 September, 2011
A couple of busy weeks cause of work, then a bad cold which stole lots of my energy. Will try to get back on track and on schedule the comming days.
Anyway, one morning when I was having the normal breakfast, porridge prepared in the microwave oven together with banana and cinnamon - I noticed that they had new stickers on the bananas, but why would one design a sad smiley face with the banana as mouth? Using sad smileys doesn't sound like the best plan for increased sales.