Week 22: Reclaim the balcony!
06 June, 2011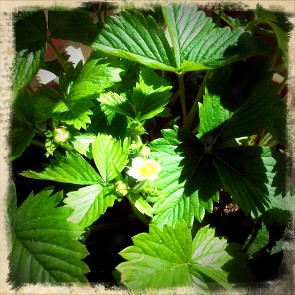 We've been having a small growing tent on the balcony for the beans and flowers to help them handle the cold nights. Now we're confident that there will be no nights with minus degrees so the tent is removed and all the plants have been replanted at their final positions. Also, the tomato plants has moved outside. Didn't get that crowded on the balcony as we fear so we can still sit there in the sunshine and drink coffee :)
The image shows the wild strawberries that we're growing. The berries will be white when they're ready and they're really tasty.